BFS-10 Plastruct - I Beam 7.9mm (90517)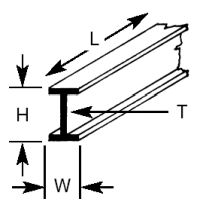 BFS-10 (Individually or Pack of 4)
Width 4.0mm 
Length 600mm 
Height 7.9mm 
Thickness 1.1mm
Absolutely essential for model barn building and any scenic structure.
Use for horizontal or diagonal members in the construction of most steel structures. 
The gap (for fitting walling in-between)is 6mm.