Rotacraft Variable Speed Mini Rotary Hobby Tool Kit Set Expo Tools 19500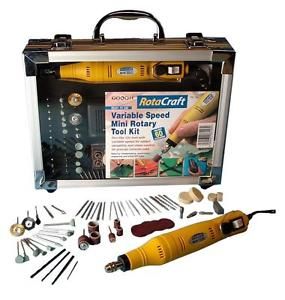 Rotacraft Variable Speed Mini Rotary Hobby Tool Kit Set Expo Tools 19500
A variable speed mini rotary tool kit that runs off of 12v D.C. supply that is included in the set. 
Speed variable from 8000 to 18000 RPM. 
Supplied in an aluminium storage case with 60 accessories 
Including a collet set for 1mm to 3.2mm drill shanks.


Great for working with most modelling materials, including Plastruct and Metal

Suitable drill bits: 16pc HSS Twist Drill Set.


Reviews